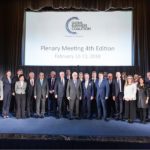 The B20 Coalition, which TÜSİAD had been a founding member of since 2012, decided in November 2016 to continue its operations under the name of the Global Business Coalition (GBC).
The President of the Turkish Industry and Business Association (TÜSİAD) Erol Bilecik delivered opening remarks at the High Advisory Council meeting, which convened this morning in Ankara. The High Advisory Council is a biannual deliberative conference where the business world takes stock of domestic and global political and economic developments, and offers suggestions to policy makers from a business perspective. Prime Minister Binali Yildirim and key members of the Cabinet were also in attendance.
The people of Turkey have voted in a referendum on proposed amendments to the Constitution. We are living in a period of historically important global changes. Regardless of the outcome of the vote, it is now time to stand in solidarity for a stronger Turkey and to look to the future without delay.