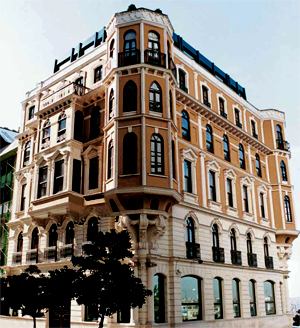 Headquartered in Istanbul the Turkish Industry and Business Association (TÜSİAD) is a civil society organization established by industrialists and businessmen in 1971 in order to represent the business world. TÜSİAD aims to contribute to the formation and development of a social order based on the adoption of the universal principles of human rights, freedom of thought, belief, and action, a secular state of law, as well as the concepts of participatory democracy, a liberal economy, the rules and regulations of a competitive market economy and environmental sustainability.
As a volunteer-based civil society organization TÜSİAD comprises leading entrepreneurs and executives from the Turkish business world. Some 600 members represent Turkey's foremost industrial and service sector institutions; these members in turn represent some 3,500 companies.
TÜSİAD's positions are formed through the work of 8 committees and 1 platform chaired by members of the TÜSİAD Board of Directors, 33 working groups under the umbrella of these committees, and special purpose ad-hoc "task force" groups, all of which meet regularly.
TÜSİAD employs a professional cadre of 55 administrative staff at the Secretariat General, Representative Offices, and the University Partnership Forums. TÜSİAD has 3 representative offices abroad.
President, Tuncay Özilhan
Vice President, Ömer M. Koç
Vice President, Nazlı Ümit Boyner
Vice President, Ömer Aras
Vice President, Arzuhan Doğan Yalçındağ
Member, Ahmet Agah Uğur
Member, Tayfun Bayazıt
---
President, Orhan Turan
Vice President, Murat Özyeğin
Vice President, Mehmet Tara
Vice President, Serpil Veral
Member, Cevdet Alemdar
Member, İzel Levi Coşkun
Member, Fatih Kemal Ebiçlioğlu
Member, Ozan Diren
Member, Perihan İnci
Member, Çağatay Özdoğru
Member, Elvan Ünlütürk
Member, Can Yücaoğlu
Member, Secretary General, Ebru Dicle
---
Headquarters – Istanbul
Phone: +90 (212) 249-1929
Fax: +90 (212) 249-1350
e-mail: tusiad@tusiad.org