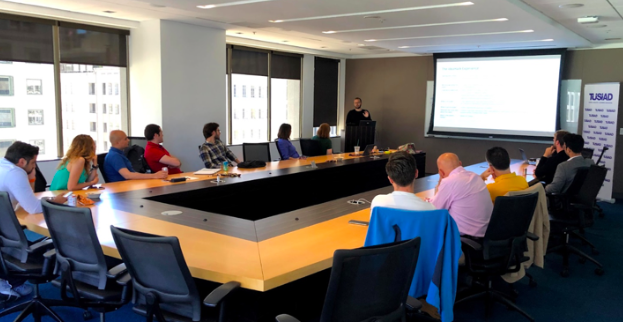 On June 8, the TÜSİAD Silicon Valley Network hosted an event titled Impact Turkey: A Day of Ideation and Collaboration at Oracle San Francisco. The idea hack was the first event of a larger initiative within the network to leverage the innovative talent of Turkish professionals in the Bay Area in order to impact Turkey through technology. The event brought together young professionals, academics, and university students for an afternoon of collaboration to brainstorm solutions for specific issue areas in Turkey, such as encouraging the wider use of technology in education and facilitating Turkey's transformation to an information society.
After a presentation from Aylin Uysal, VP of User Experience at Oracle, attendees broke into groups to decide which specific issue areas to address through technology-based solutions. The crowdsourcing group then identified ways to achieve feasible solutions in these action areas.
This event was organized by TÜSİAD Silicon Valley Network Crowdsourcing Committee volunteers Sena Zorlu, CEO of Instapio; Mert Sezgen, Strategy & Innovation Consultant at EY; and Bugrahan Cigdemoglu, Software Engineer at DNAnexus.
The TÜSİAD Silicon Valley Network will host future events to discuss potential execution strategies and to move the crowdsourcing campaign forward. Stay tuned for additional information on this initiative and reach out to usoffice@tusiad.org if you would like to get involved!