TUSIAD President's Remarks at High Advisory Council in Istanbul
The President of the Turkish Industry and Business Association (TÜSİAD) Erol Bilecik delivered remarks at the High Advisory Council meeting, which convened on Thursday, May 24 in Istanbul. The High Advisory Council is a biannual deliberative conference where the business world takes stock of domestic and global political and economic developments, and offers suggestions to policy makers from a business perspective.
President Erol Bilecik reiterated the Turkish business world's calls for reforms, strengthening of democratic standards and the rule of law, and reinvigorating the EU accession process.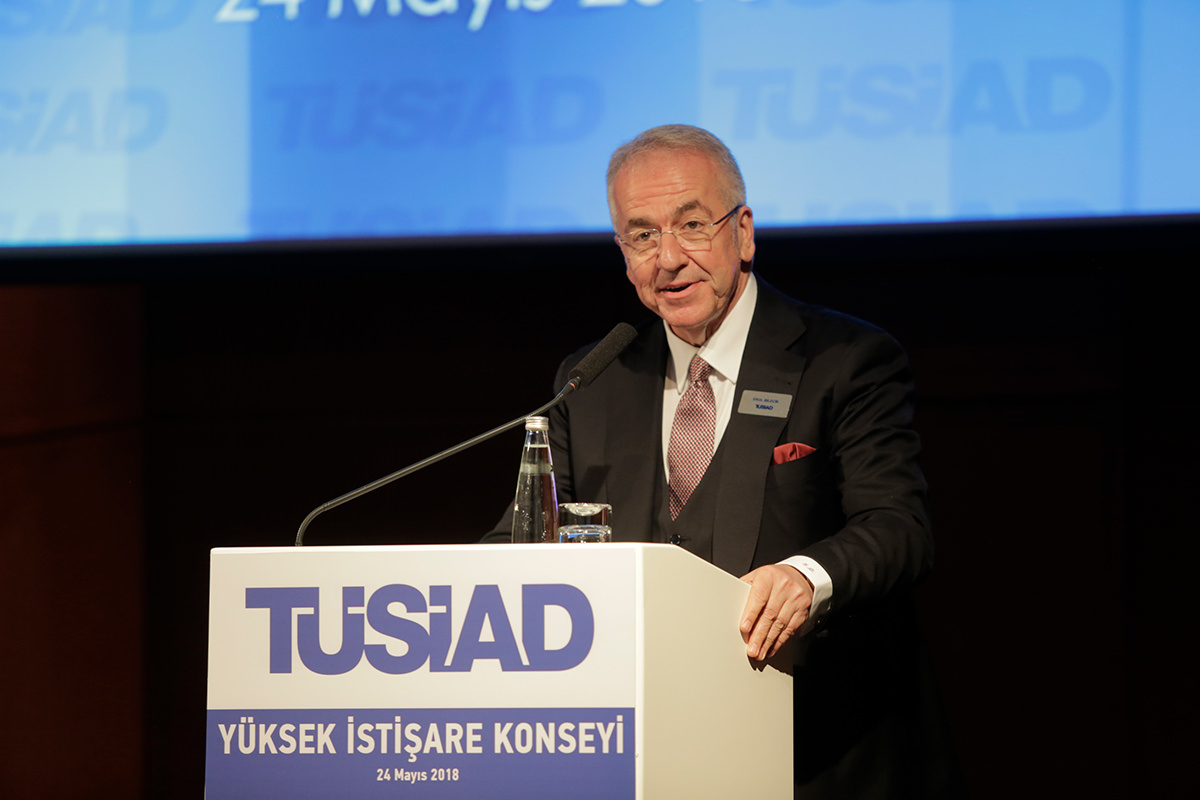 Excerpts of President Bilecik's speech in English:
On the economy:
"We are closely watching the markets, exchange rate, interest rates, and inflation. Recently, external developments and domestic expansionary policies have seriously harmed these indicators. The difficulties we have experienced as a country – a never-ending election cycle, an attempted coup, and regional risk – are causes of concern. However, beyond these developments the fundamentals of our economy have weakened. Unfortunately, due to high inflation and the debt burden, the balance of the Turkish economy has become fragile."
"Our savings remain insufficient to finance high growth based on domestic demand. For this reason, we are dependent on foreign debt. Foreign debt creates risk in exchange rates for both the public and private sectors. Our foreign currency requirements, must be met; preferably with long term direct investment, but if necessary with short term inflows."
"We must try to improve this situation with structural reforms. The reason we are in this state today is that important reforms have been continuously delayed."
"Short term precautionary measures that are not based on rules or predictable policies will lead investors to question the sustainability of the economy. The decrease in the value of our currency indicates that investors have begun questioning the economy. We must immediately take steps to restore confidence. Policy makers have achieved important successes recently. In order to sustain these achievements, the economy needs to be managed wisely."
"Turkey needs new policies that match the transformation of the global economy. We need to understand the economic programs and analyses of all presidential candidates and political parties. The Turkish business world will fully support an economic program that utilizes resources efficiently and is reasonable. Turkey has the necessary resources, know-how, capacity, and perseverance to succeed."
On democracy:
"'Our lives are shaped not as much by our experiences as by our expectations.' Our expectation from democratization is greater transparency, more participation, and adherence to principles of rule of law."
"'The law ought to be supreme over all.'" The rule of law implies that a government observes laws and is checked by an independent judiciary. This is necessary to protect the rights of citizens. Separation of powers is not an intellectual debate. It is a fundamental requirement of a modern state."
On freedoms:
"By consensus and dialogue based on inclusiveness we can freely adopt and implement reforms. This is only possible in participatory democracies where freedom of thought and expression are guaranteed."
"'Freedom is the defining principle of democracy.' "Freedom of speech is a principal pillar of a free government.' People who live in freedom are creative, entrepreneurial, at peace, socially responsible, and self-confident."
A strong economy, requires a strong democracy:
"Progress without reforms, and reforms without democracy are not possible. Democracy not only promotes economic growth, but also human development. We must overcome our fears in order to democratize. Let us not fear change, dialogue, or our differences."
"If our people are to be assured of the future, Turkey must achieve stable and sustainable economic growth and social consensus. For a strong future, we need a strong economy. For a strong economy, we need strong democracy. And for this we have no more time to spare."
The President of the High Advisory Council of TÜSİAD, Tuncay Özilhan echoed these remarks, and called on the next government to pursue the following: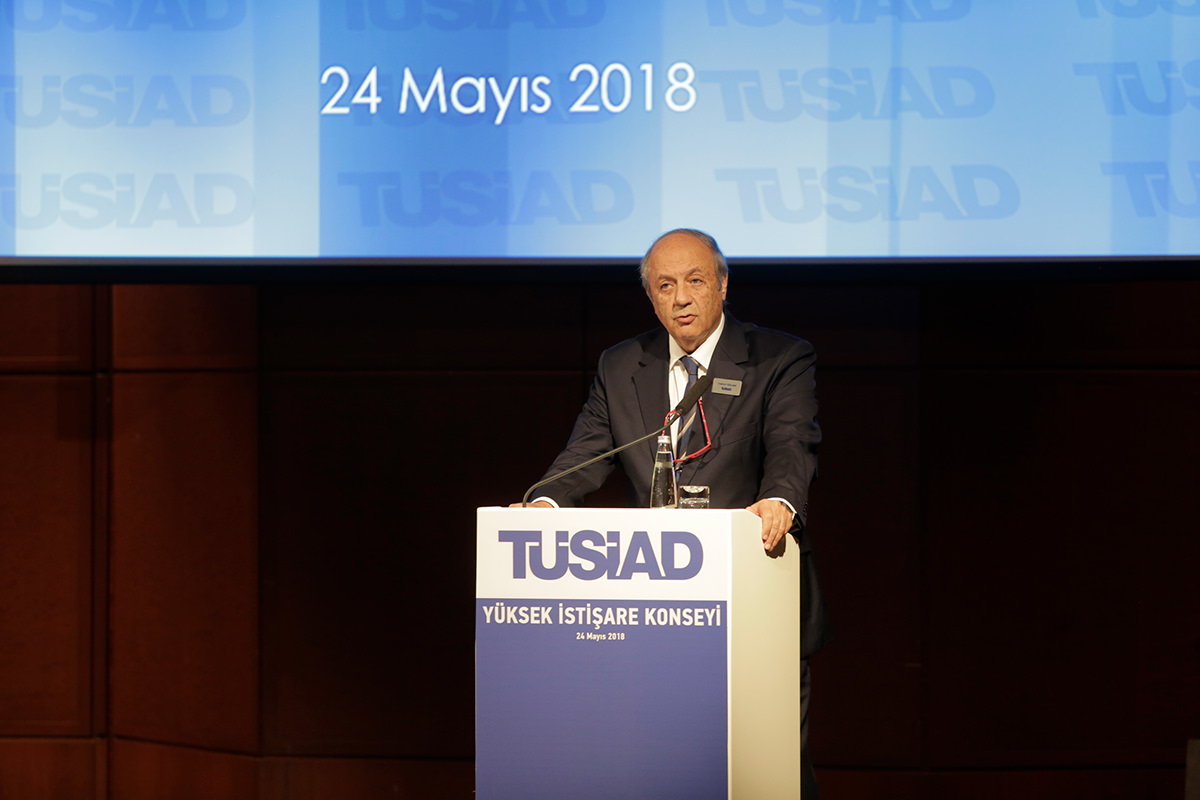 Expand the institutional capacity of government
Enhance separation of powers
Effective structuring of the bureaucracy, assuring appointments are merit-based
Strengthen rule of law and justice
Commitment to pluralistic democracy
Guaranteed freedom of speech
Acknowledgement of the importance of secularism
In terms of the economy, Tuncay Özilhan highlighted the following priorities of the business world:
Policies that promote macroeconomic stability
Technological transformation for sustainable growth
Equitable distribution of income
Focus on education
On foreign policy he called on the next government to pursue:
A balanced approach to foreign policy
Strengthened Turkey – EU relations
Excerpts of President Tuncay Özilhan's speech in English:
On normalization:
"We have had an election on average every 12 months since 2007 and we are exhausted. We must end this tense environment that strains society and generates discord. Our economy and politics must be normalized. We need to end bickering and polarization, and focus on how to improve our country."
"Turkey has always prevailed in global competition when it correctly perceives and adapts to global change.  Each of these moments in history has a story that motivates society, that gives hope and a vision for the future. We need a new story today. This new story must be inclusive of everyone."
On rule of law and justice:
"The restoration of the rule of law and justice… The rights and freedoms of all citizens must be guaranteed by the state. There should be no questions on the supremacy of the rule of law."
On the economy:
"The priority for our economy should be macroeconomic stability. High inflation prevents long term planning; eliminates investment conditions and reduces the real income of citizens. Since foreign investment has weakened, the decline in the value of the Turkish Lira cannot be arrested. The rapid devaluation of the lira has increased the debt burden to impossible levels, while combatting inflation has become more difficult. The Central Bank must be able to independently pursue policies to fight inflation. Fiscal policy, in coordination with monetary policy, should also combat inflation."
On foreign policy:
"Turkey's EU accession process remains the most effective tool against risk and uncertainty in our region. Despite the European Union's misguided policies towards Turkey and the loss of momentum in the EU harmonization process on national level, drifting from Europe is not in Turkey's national interests. Considering that Turkey's accession to the European Union would strengthen Europe in the global balance of power, integration cooperation would be mutually beneficial for Turkey and the EU based on a win-win relationship."
For more information:
Full text of the speech by TÜSİAD President Erol Bilecik (in Turkish)
Full text of the speech by TÜSİAD High Advisory Council President Tuncay Özilhan (in Turkish)