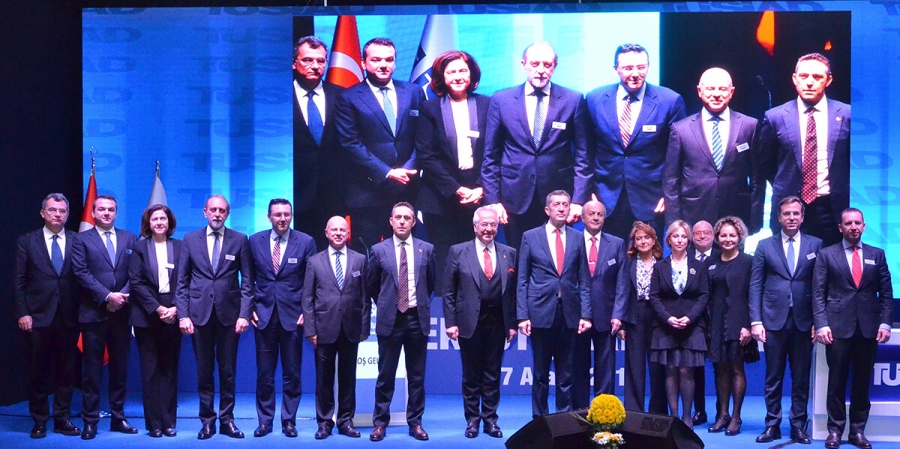 The President of the Turkish Industry and Business Association (TÜSİAD) Erol Bilecik delivered opening remarks at the High Advisory Council meeting, which convened this morning in Ankara. The High Advisory Council is a biannual deliberative conference where the business world takes stock of domestic and global political and economic developments and offers suggestions to policy makers from a business perspective. The Minister of Education was also in attendance.
President Erol Bilecik reiterated the Turkish business world's calls for reforms, strengthening of democratic standards and the rule of law, and reinvigorating the EU accession process.
"As a democratic, secular, social state based on the rule of law that is committed to a functioning free market economy, Turkey is an indispensable regional power on the global stage. With its young population, Turkey has high potential to rapidly develop and advance its economic and cultural integration with the world. We believe that with an educated and innovative population that respects human rights and democratic principles, along with our geographic, historic, and political strengths; we are poised to create new success stories."
"Our goal is to integrate into a rules-based, liberal democratic order. Towards this end, we must develop stronger relations with the United States within a transatlantic framework and preserve the EU accession process."
"The recent improvements in Turkish-American relations are significant. The re-implementation of sanctions on Iran by the Trump administration and the decision to grant Turkey a waiver was, without a doubt, extremely important. Repairing the relationship with the U.S., which is one of Turkey's most important allies, is first and foremost imperative to our economic interests. We mustn't forget that friendships and enmity between countries are temporary, while interests endure. For this reason, the remaining disputes between Turkey and the U.S. should be resolved as soon as possible through common sense diplomacy."
"For TÜSİAD, Turkey's EU membership is a fundamental goal. The EU accession process afforded our country the opportunity to make strides in economic growth, technology, diplomacy, democracy, and rule of law, in order to meet our 2023 targets. Membership in the EU means:
A liberal, rules-based democratic order, legal predictability, a stable and open market economy, social welfare, and prudent foreign policy.
EU membership is an opportunity for Turkey to become a regional center of attraction. Turkey's accession would also expand the transformative power and area of influence of the EU.
Turkey's EU membership is a win-win formulation.
"Turkey is facing a proposal to formally end the EU accession process. This mistake must be reversed as soon as possible."
"Global developments have certainly had an impact on our economy. However, we must first look to ourselves to address economic problems. We must be realistic in assessing the situation:
Today, low liquidity is a problem for every sector.
Financing is not as accessible or affordable as in the past.
The credit crunch that began in August continues.
Compared to March, interest rates have increased by 11 points and the currency has devalued by 40%.
Companies and consumers are struggling under these conditions.
The problems for small and medium-sized enterprises are multiplying.
Demand has seriously declined and our economy, which has grown steadily over the past nine years, is now contracting.
"It is critical to determine the damage to bank balance sheets, carry out stress tests, and eliminate non-performing loans as soon as possible. We must accept the fact we cannot overcome this crisis before the credit contraction ends."
"The rules of economics are well defined. Our economy requires an anchor. This anchor is strong institutions and rules-based policy making. Ensuring economic stability and decreasing uncertainty depends on transparency and fairness in rule-making that is free from political influence. Arbitrary practices will harm market balances. That is why as we try to resolve problems, we must avoid temporary measures implemented in haste and pursue long term policies that promote a balanced economy."
"Economic reforms alone are not sufficient to strengthen the economy. We must become a transparent, compromising, just and democratic society. Democratic development, the protection of freedom of expression and of the press and the expansion of all freedoms must accompany economic reforms."
"A state based on rule of law implies a democratic constitutional system, an independent and impartial judiciary, human rights and freedoms guaranteed by law, separation of powers and a secular social order. Judicial independence is critical for the people to have faith in justice. Our vision of Turkey, in which we can be proud, requires building a democratic system that is based on rule of law and protects freedoms."
The President of the High Advisory Council of TÜSİAD Tuncay Özilhan echoed these remarks by saying:
"The economic crisis that emerged after May is due to policy mistakes that have eroded the foundations of the economy. There were of course external factors that triggered it and worsened the crisis. The historical record shows that almost all economic crises are caused by politics. Economies that are able to withstand crises have strong foundations; maintain balanced budgets; do not run balance of payments deficits; and have low public and private debt. They have strong banking sectors; functioning regulatory and supervisory agencies; and institutions, like the Central Bank, that are independent."
"It is likely that we will experience more problems in the medium term. Companies over the last 10 years have been operating with abundant international capital and valued currency. These companies are now in trouble. The number companies filing for bankruptcy are increasing each day. The real sector is unable to plan due to high inflation and fluctuating currency. High interest rates are limiting access to capital. If more companies go out of business, this will affect SME's, shopkeepers and consumers. Unemployment will increase. High unemployment coupled with high inflation will decrease purchasing power. Lower demand will harm businesses. And this will affect the banks, further limiting available credit. To prevent this, the financial sector must be supported with appropriate tools."
In his remarks, Tuncay Özilhan reiterated calls for progress in Turkey – EU relations and said, "As Turkey's relationship with the West improves, the objective of economic stability, pluralistic democracy, rule of law, social development and expanded freedoms will be more easily achieved."
Özilhan also called attention to problems in the state bureaucracy, public education system and gender inequality, urgently calling for reforms.