TÜSİAD President Cansen Basaran-Symes delivers Opening Remarks at the 46th General Assembly

The Turkish Industry and Business Association (TÜSİAD) convened its 46th General Assembly meeting in Istanbul today, February 11, 2016. Members paid tribute to the memory of Mustafa V. Koç, Honorary Chairman of TUSIAD and President of the Board of Directors of Koç Holding, who passed away on January 21, 2016. TÜSİAD remains grateful for his contributions to the Turkish economy, the support he provided for the development of Turkey's private sector, his commitment to universal democratic principles, and his tireless work for social progress.
TÜSİAD President Cansen Basaran-Symes delivered opening remarks at the General Assembly calling for the urgent implementation of reforms and restoration of peace.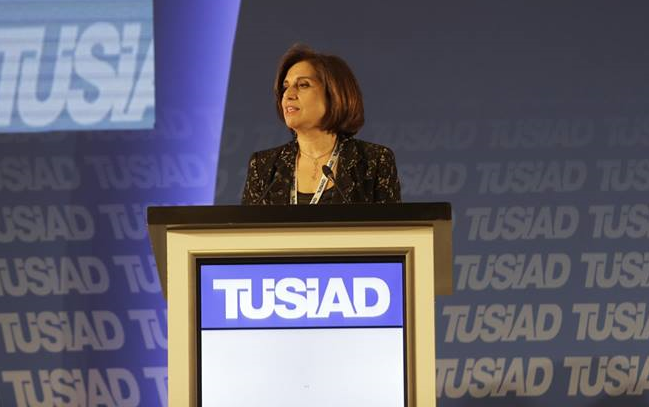 Brief excerpts from her speech are as follows:
On violence:
"It is necessary that clashes stop, that the PKK immediately puts an end to violence and that political channels are reopened in order to return to a path towards a peaceful resolution."
"We must not allow terrorism and polarization to disrupt the solidarity that has taken root in our country."
On Syria and refugees:
TUSIAD President Cansen Basaran-Symes called attention to the proxy wars in Syria which have created one of the worst humanitarian crises in recent history:
"Thousands of people are risking their lives to seek refuge in developed countries as they flee war and pursue greater freedoms. This problem must be resolved within the geography it is coming from."
On the economy:
"Unfortunately, we have begun 2016 with increasing uncertainty. Global growth rates since the economic crisis are at a 30% loss. The locomotives of global growth have slowed considerably… The extraordinary drop in commodity prices and slowing growth in developing countries continue to unnerve the global economy and financial markets."
"As an open economy, Turkey continues to suffer because of insufficient external demand."
"Turkey, not having fully industrialized, must achieve a minimum of a 5% growth rate in order to sustain current levels of employment. Domestic investment is not increasing and, despite the decline in energy prices, Turkey's current account deficit remains at a risky level."
"Therefore, two issues are of considerable importance to us: First, we must not tolerate any rhetoric or behavior that could harm macroeconomic stability. At this point, let me say that we must recognize and decisively end the rise in inflation.  The second important issue is the Government's Action Plan. We are pleased that the government is decisive in implementing reforms. But let me reiterate that current global economic conditions absolutely necessitate the effective implementation of the action plan."
"The successful implementation of this program can distinguish Turkey from comparable countries, help achieve its growth potential, and allow greater foreign resources to flow to Turkey… Opportunities are only opportunities if they are capitalized on at the right time."
On democratic norms and fundamental freedoms:
"If the world does not return to liberal democratic values, it will be more difficult to emerge from economic crises. The new economic order requires inclusive growth and innovative competition, a liberal democratic structure, and transparent and accountable governments that preserve the rule of law."
"Society's confidence in the judiciary is insufficient. Unfortunately, no one is disputing this fact. Economic success cannot be sustained in a country where judicial independence, confidence in the judiciary, and legal certainty has eroded."
"
I am troubled that we are still debating the merits of freedom of expression and freedom of thought, even after so many years of democratic experience. We must quickly overcome the widespread intolerance toward freedom of expression, which is a fundamental dynamic within a democracy. As long as it is not a call to violence, we should not fear diverse opinions. How can a society that does not tolerate diversity debate a new constitution, negotiate EU accession or strive for regional development?"
"Finally, I would like to mention the principle of secularism, which we must cherish. A liberal secular understanding is the foundation of individualism. Scientific thinking, taking initiative, and the impulse to question and conduct research are built on this foundation. These characteristics, which we can attain by quality education, are a prerequisite to developed societies."
"With hope and enthusiasm for a new constitution, and greater freedoms at the level of EU standards, we believe that Turkey will move towards a peaceful and prosperous future."