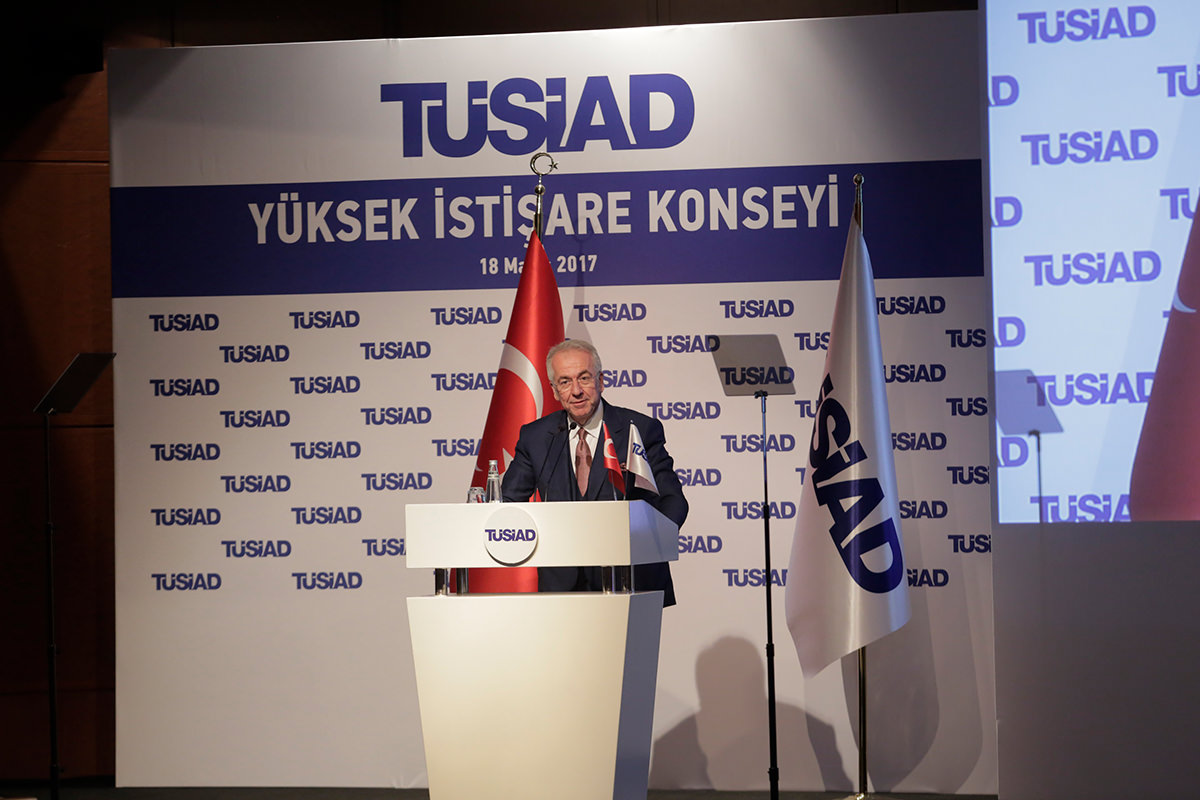 The President of the Turkish Industry and Business Association (TÜSİAD) Erol Bilecik delivered opening remarks at the High Advisory Council meeting, which convened this afternoon in Istanbul. The High Advisory Council is a biannual deliberative conference where the business world takes stock of domestic and global political and economic developments, and offers suggestions to policy makers from a business perspective. President Recep Tayyip Erdoğan and key members of the Cabinet were also in attendance.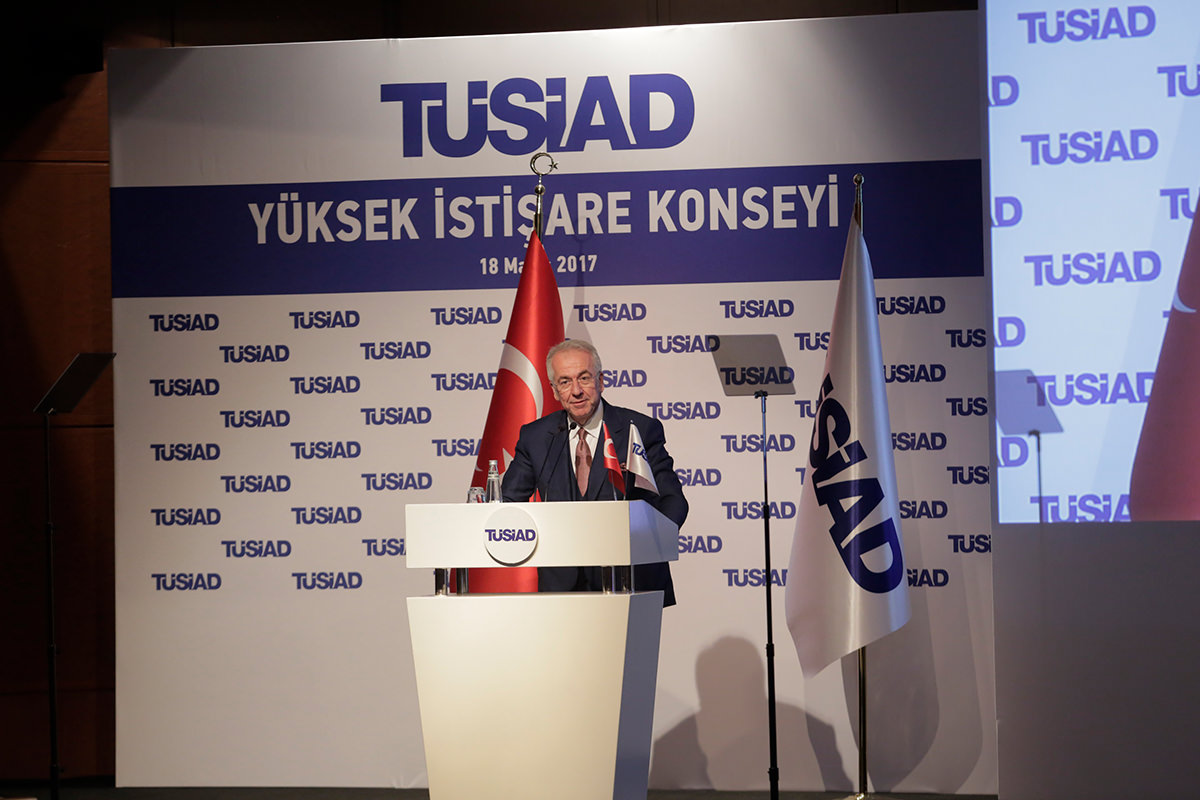 President Erol Bilecik reiterated the Turkish business world's calls for reforms, strengthening of democratic standards and the rule of law, and reinvigorating the EU accession process.
Below are English excerpts from Mr. Bilecik's speech:
On Freedoms:
"A free younger generation, a free society, and strong rule of law in all areas and in the fullest meaning of these words are Turkey's most important and powerful resource. As TÜSİAD we are striving to achieve these goals, for our youth, for our Republic, for a democratic and thriving Turkey."
"Methods to combat crime that are specific to the internet environment can be found without hindering the struggle against terrorism. However, under all circumstances, the precautions taken need to be measured, meaning they should be proportional to the crime."
"Our recent history shows, that Turkey rises and becomes stronger, when it is a country where people are free in all areas, women and men are equals, and information and creativity are elevated."
On Reform:
"As the business world, our first expectation is that Turkey should once again embrace a wave of reforms and begin to take the necessary steps which have been delayed for a long time and which should no longer be impeded."
"With this goal in mind, as the private sector we are ready to support the following goals:
Ensuring price stability to permanently reduce inflation to 5% or less;
Establishing simple, transparent, and effective policies regarding the unregistered economy and taxes;
Improving capital markets and introducing alternative methods of financing to create resources for the real sector;
Adopting and implementing public procurement legislation that meets EU standards of competitiveness, transparency and productivity.
Similarly, our goals and recommendations to increase productivity and performance in the economy are clear:
Update industrial strategy consistent with the Industrial Revolution 4.0 and digitization technology;
Reform the energy sector to create free, sustainable, and predictable markets;
Reduce average tax and premiums on employment to OECD levels and improve labor market flexibility;
Support the expansion of SMEs according to the needs of the digital age in terms of productivity and financing;
Take decisive steps towards securing gender equality in education, employment, and management."
On the U.S.-Turkey Relationship:
"We hope that the difficulties in the relationship between two NATO allies are overcome in a short period of time and that the relations reach levels of necessary cooperation. We hope that both sides will be able to better understand concerns, priorities, and expectations and that they find a means of communication which will prevent misunderstanding."
On EU accession:
"The EU accession process is determinatively important for our national prosperity, our domestic economy, and global competitiveness."
"Turkey-EU relations have never been without problems, but they have always endured. Both sides possess the capacity to overcome problems. We believe that a great responsibility will fall to politicians on both sides to establish a common future, leaving behind the unpleasantness of the past. Social prosperity, technological development, finance, investment, exports, tourism, and the structure of predictable rule of law provided by the EU accession process are top priorities for Turkey's national objectives."
"We support, within the framework of Turkey's EU accession partnership, the modernization of the current EU-Turkey customs union."
"The strategy for "Europe's future" is evolving in concentric circles, with a federal Eurozone in the center of a wider confederal European Union."
On Terrorism:
"We support the struggle against terrorism until it ends. In the past we have consistently upheld this position. Steps to provide social peace, preserving individual rights, providing security of life, and especially developing policies for prosperity in southeastern Anatolia must be prioritized."
"…We believe it is necessary to open political channels and to create the political conditions which will provide the architecture of dialogue and solutions. On this topic we are ready to take responsibility, as we have always been."
The President of the High Advisory Council of TÜSİAD Tuncay Özilhan echoed these remarks by saying:
"I want to emphasize one more time the importance of ending the state of emergency in order to advance freedoms, pluralism, and solidarity; the independence and impartiality of the judiciary; reforming the political parties and elections law; meritocracy in public service; freedom of thought and expression; a free media and internet."
"Rule of law and freedom are Turkey's social values; they are the most important sources of strength for our economic impact and political reputation in the world, and for Turkey's national interests."
"Over the past fifteen years, whenever Turkey advanced democracy and freedom as a society, as it did during the EU accession process, it grew stronger."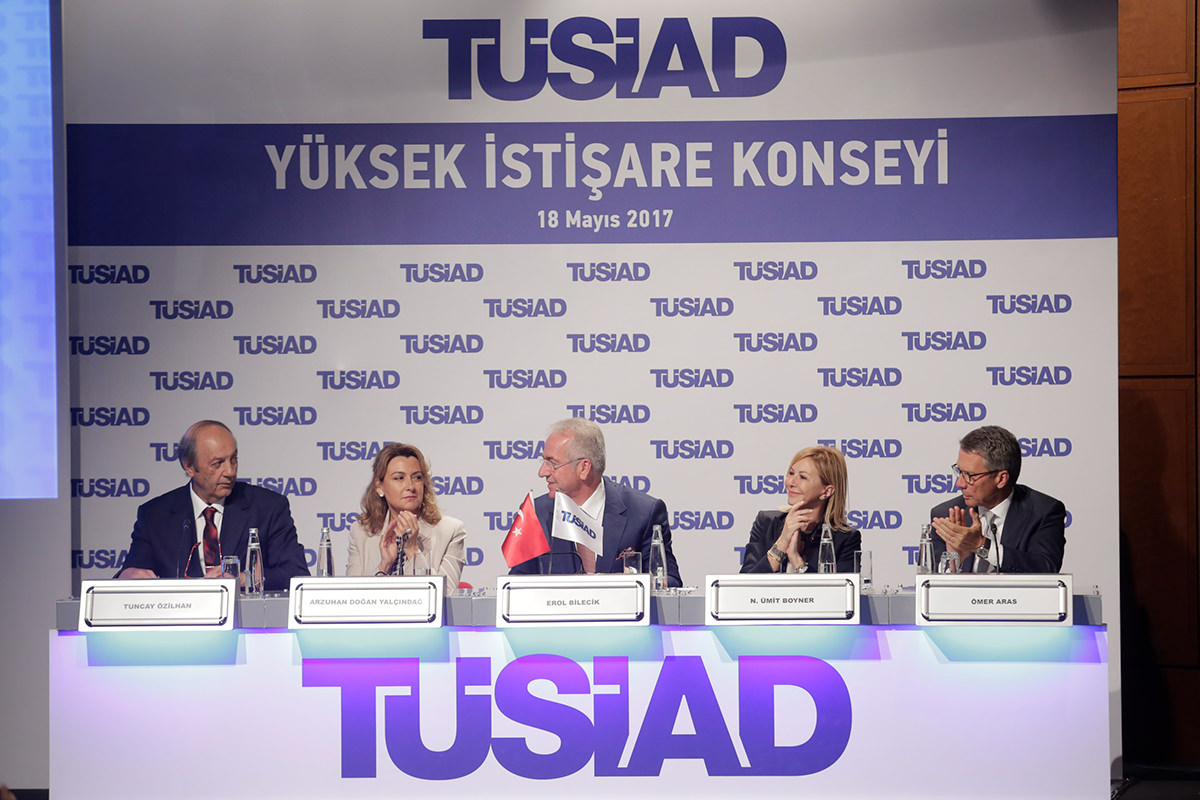 For more information:
Full text of the speech by TÜSİAD President Erol Bilecik (in Turkish)
Full text of the speech of TÜSİAD High Advisory Council President Tuncay Özilhan (in Turkish)