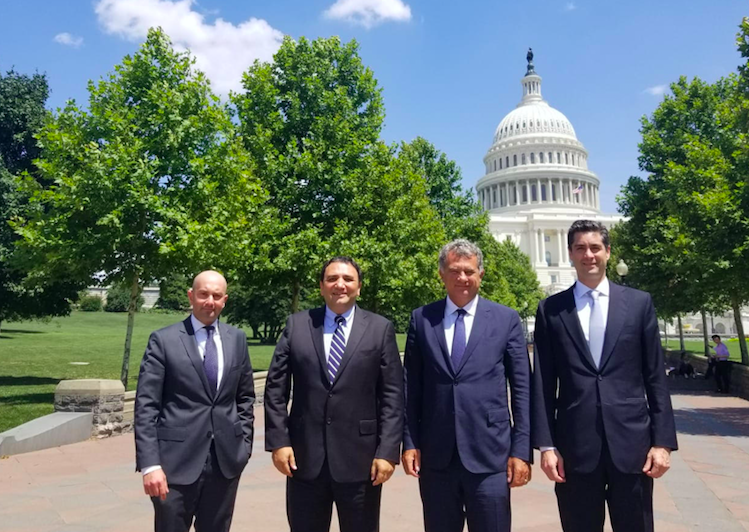 TUSIAD President Simone Kaslowski led a delegation to Washington, D.C. on 16-17 July 2019. The delegation included TUSIAD Global Relations and EU Roundtable Leader and Member of the Board of Directors Bedii Can Yücaoğlu, TUSIAD U.S. Network Leader Murat Özden, and TUSIAD Washington Representative Barış Ornarlı.
In meetings with U.S. officials, members of Congress, and policy leaders, the delegation emphasized the need to prioritize a long-term vision in order to address the current issues in the U.S. – Turkey relationship.
The delegation met with several members of Congress in addition to officials from the White House National Security Council and the State Department. Members of the delegation also attended a roundtable meeting at the Brookings Institution on transatlantic and bilateral relations.
The delegation also met with leading experts from Washington-based think tanks as well as representatives of the business community.
Kaslowski made the following statement regarding the visit:
"Turkey and the United States have always been able to overcome disagreements in the relationship by underlining common interests and shared values as members of the liberal democratic order. We have expressed the importance of focusing on bilateral relations with a long-term perspective and the need for continued engagement. We have also emphasized to our counterparts the importance of understanding Turkey's rightful struggle against terrorism.
As representatives of the business world, we are committed to improving economic relations between Turkey and the U.S. In particular, we should embrace the opportunities brought about by rapid digital transformation. The Fourth Industrial Revolution and new technologies, especially artificial intelligence, should provide the framework for U.S. – Turkey cooperation in trade and investment. We support steps towards solving the current problems in the relationship in order to improve economic ties, which include defense industry cooperation. We hope for a swift resolution of tensions in the relationship over the  acquisition of the S-400 missile defense system and related sanctions, by recognizing our shared values as members of the transatlantic community.
Turkey's future depends on its participation in a transatlantic system centered around the rules-based democratic order. The key elements of Turkey's strategic and historic orientation continue to be an EU accession perspective, NATO membership and its strategic relations with the U.S."